As much as I enjoy quick & easy meals like my recent Sweet Chili Shrimp recipe, sometimes I'll engage in a little extra kitchen labor if a dish is really worth it. And let me tell you, this one is SO worth it!
Devin requests that I make this dish all the time; probably because this recipe had been passed down and adapted from his mom. But to be honest, I never grew up eating chicken salad and don't have a single memory of tasting it before I met Devin. It was just not something I was often exposed to and did not have much interested in.
That all changed when I tried Devin's mom's recipe! Since then, I've had several different versions of chicken salad, but all other versions seemed to be lacking something. I could never figure out what exactly, but something was always missing.
That's why I like to refer to this recipe as "Loaded" Chicken Salad. While there are quite a few ingredients (and quite a lot of chopping), it's so worth the end result, and I wouldn't leave a single thing out!
In this recipe, I don't include instructions on how to cook the main ingredient, chicken. As you know, there are multiple ways to cook chicken. Some common options include: slow cooked, sautéed, pan seared and baked. Another thing is, not everyone seasons chicken the same way. Some use just salt and pepper, others add every seasoning in their pantry and some don't season it at all (which I don't typically recommend). But I wanted to leave this up to you own interpretation. Another good option is to use left over chicken or rotisserie chicken.
There are a multitude of chicken salad recipes out there and I doubt you will find any two the same. The combinations and variations are endless! I prefer mine to have the following qualities: something sweet, something crunchy and something savory. The ingredients in this recipe and their quantities are suggestions and I encourage you to use your creativity to tailor it to your liking.
Some alternative ingredients are: pineapple tidbits, almonds, bell pepper, and red onion. I've even seen eggs and olives, if you're feeling a little adventurous. Other additives include dijon mustard, bbq sauce, jerk seasoning and lemon juice. Like I said, the combinations and possibilities are endless as long as you have something sweet, crunchy, and savory, in my opinion.
I'd love for you to give my version a try a least once! Let me know in the comments how you like it as well as your favorite alternatives to this recipe!
Disclaimer: This post contains affiliate links. We will receive compensation for any items purchased using the links below, at no cost to the buyer.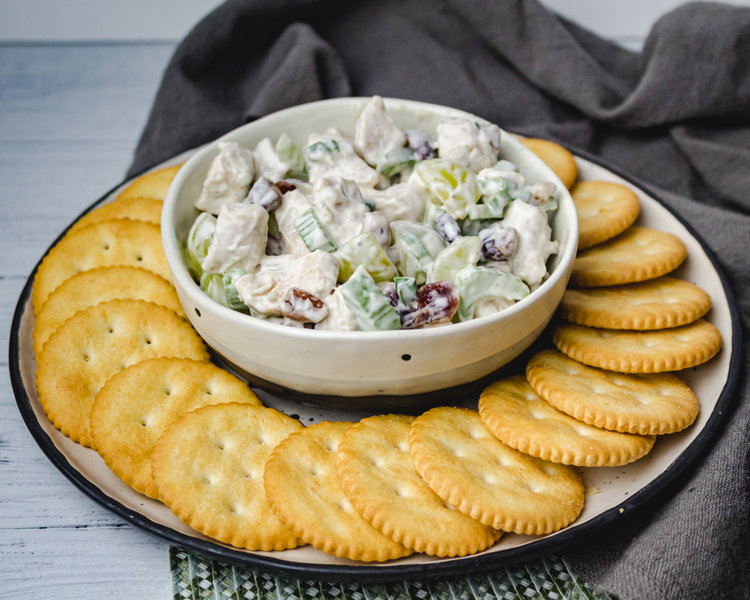 Loaded Chicken Salad
A quick summer recipe for juicy chicken salad loaded with celery, candied nuts, cranberries, apples, grapes and green onion.
Ingredients
3 cups cooked chicken, cubed or shredded*

3/4 cup green onion, chopped

1 cup celery, sliced

1/2 cup honey roasted walnuts or pecans

2 cups seedless grapes, halved

1 apple, cored & diced into cubes

1/2 cup dried cranberries

2 cups mayonnaise

1/2 tsp garlic powder

1/2 tsp dried thyme

salt & pepper to taste

crackers, croissants or sliced bread for serving

Instructions

In a large bowl, combine chicken, green onion, celery, nuts and cranberries. In a small bowl, combine mayonnaise, garlic powder, thyme, salt & pepper until thoroughly mixed.
Mix seasoned mayonnaise with chicken mixture. Fold in grapes and diced apples.
Cover & refrigerate for at least 1 hour.
Remove from fridge and serve with your favorite crackers, or on a croissant or sliced bread.

Details

Prep time:

Cook time:

Total time:

Yield:

6-8 servings


Skill Level: Easy
Notes:
*Options for cooking chicken include: baking, sautéing, boiling or using pre-cooked rotisserie or left over chicken.