Don't you just love cooking a recipe that took you virtually no time to make AND tastes incredible? Well I've got just the recipe for you! If I haven't stressed how much I love shrimp and how much I love Asian food, let me tell you one more time… I freaking LOVE them both, so of course I had to bring you a recipe that encompasses the two!
In my house, especially since we've moved to Hawaii, we've been going through soy sauce and sweet chili sauce bottle after bottle! I use them so much, that I'm even considering purchasing commercial-sized bottles on Amazon in the near future. Essentially, these two ingredients make up exactly half of the number of ingredients used to make this epic sauce.
You could choose to just use the sweet chili sauce on it's own and forgo the soy sauce, after all, it is "sweet chili shrimp" but there is a reason that soy sauce is an ingredient in this recipe. Not only does it cut some of the sweetness of the chili sauce (which can be very sweet by itself) but it also thins out the sauce to allow it to mix well with the shrimp. Add a little dash of water to thin it out a bit more, without changing the balance of flavor, and you're golden!
One of the reasons I chose to use shrimp, instead of chicken, is that shrimp takes just about no time to cook! Of course it depends on the quantity you're cooking, but generally, 2-3 minutes per side does the trick, with an extra minute to absorb some of that delicious sauce. If you time it right, you can have your shrimp and a side (I highly recommend coconut rice) done within 20 minutes!
What more can I say? A minimal ingredient recipe, 20 minutes or less cook time; I would say hope you enjoy, but I already know you will just as much as I do!
Disclaimer: This post contains affiliate links. We will receive compensation for any items purchased using the links below, at no cost to the buyer.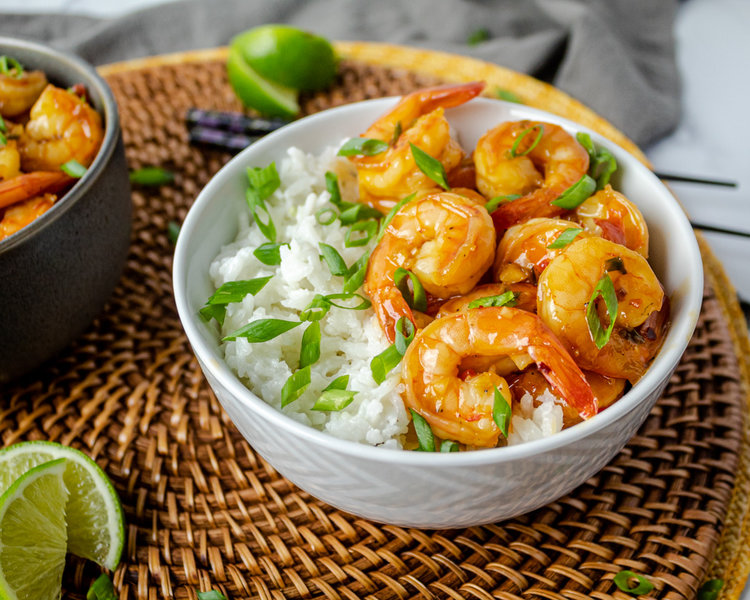 Sweet Chili Shrimp
Delicious garlic shrimp cooked in sweet & spicy Thai chili-soy sauce. Served best with coconut rice!
Ingredients
Shrimp

1 1/2 lbs shrimp, peeled & deveined, tail on

3-4 garlic cloves, minced

1 tbsp olive or coconut oil

salt & pepper to taste

lime wedges and sliced green onion for garnish

Sweet Chili Sauce

1/2 cup Thai sweet chili sauce

1/4 cup soy sauce

2 tbsp water

1/2 tsp red pepper flakes (optional)




Instructions

In a bowl, whisk sauce ingredients until well blended. Set aside.
Heat oil in a large skillet on medium heat. Add minced garlic and cook for 2 minutes. Pat shrimp dry, season with salt and pepper then add to skillet, cooking for 3 minutes per side.
Add sauce to skillet and simmer on low-medium heat until sauce has slightly thickened.
Remove from heat and serve over coconut rice*. Garnish with sliced green onion and lime.

Details

Prep time:

Cook time:

Total time:

Yield:

4 servings