Every once in a while, when I'm feeling a little indulgent, I like to spend a few extra bucks treating myself to a nice dinner. But because I'm still cheap AF, I choose to cook this dinner at home, maybe using a nicer cut of meat, or fish from the fresh aisle that had not made its way to the sad freezer section yet. Listen, I know I'm not the only one, so I wanted to share this recipe for a really easy, literally fall-off-the-bone, smothered Korean BBQ Short Ribs, as good as you can get at any upscale restaurant!
If you've been here a while, you know that Asian food is my jamm, especially after moving to Hawaii and being exposed to so many Asian influenced meals and dishes. We had some Korean BBQ chicken for the first time in a while the other day and I completely forgot how truly unique Korean BBQ is compared to other soy sauce-based sauces. I knew I had to take a stab at these short ribs again!
The first thing I always like to do with short ribs is season and sear. I season them roughly with salt and pepper then make sure I have a hot pan before cooking. The goal is not to fully cook the ribs, just brown them on the outside to give them a nice color and seal in all the juices. "But who cares about the color? They're just going to be covered in sauce anyway." True, but it is always best practice to sear short ribs before slow cooking no matter what you throw on it afterwards.
Next, throw your sauce together, making sure to whisk out all lumps of sugar and cornstarch. Taste the sauce and adjust for flavor preference. If you're feeling a little adventurous, you can replace additional salt with fish sauce instead. Pour your sauce over the seared ribs in your slow cooker and turn to low. I recommend giving yourself ample time to cook these as the longer they cook, the more tender and flavorful they become. I actually had to fish out the bones because they all fell off by the end!
Allow your sauce to cool and thicken before serving. Even when cooking on low, these babies will be very hot and the sauce may appear thin. Allow to cool and if sauce is still thin, add a bit of mixed cornstarch and water gradually to the sauce. Once desired thickness is achieved, I like to serve with potatoes or roasted/steamed veggies! And don't forget that beautiful green onion and sesame seed garnish at the end to bring it all together!
Disclaimer: This post contains affiliate links. We will receive compensation for any items purchased using the links below, at no cost to the buyer.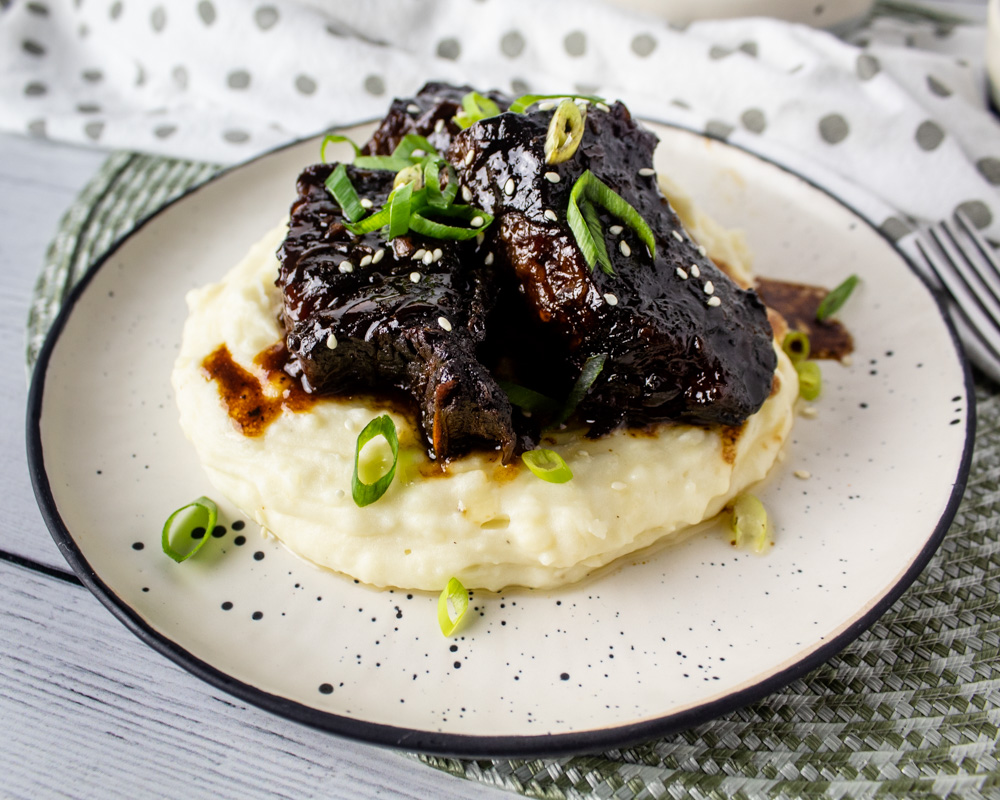 Korean BBQ Short Ribs
Fall off the bone short ribs slow cooked and smothered in sweet/tangy Korean BBQ sauce.
Ingredients
2 lbs short ribs

1 tbsp olive oil

1/2 tsp salt & pepper, each

1/2 cup low sodium soy sauce

1/3 cup brown sugar

1 tbsp rice wine vingear

1 tsp fresh ginger, grated

1 tsp sesame oil

1 tbsp cornstarch

3 cloves garlic cloves, minced

1/4 tsp red pepper flakes

green onion, chopped

sesame seeds
Instructions
Heat oil in a large sauté pan on high. Season short ribs with salt and pepper then pan sear until browned on all sides, approx. 1-2 minutes per side. Place browned, but still uncooked, short ribs in slow cooker.
In a bowl, whisk remaining ingredients, except green onions and sesame seeds. Pour sauce over short ribs in slow cooker. Turn slow cooker to low and cook for 7-8 hours or high for 3.5-4 hours. A longer and slower cook for short ribs is recommended.
Remove short ribs and sauce from heat and allow a few minutes to cool and sauce to thicken. Garnish with chopped green onion and sesame seeds and serve with mashed potatoes and/or steamed vegetables.
Details
Prep time:
Cook time:
Total time:
Yield:

4 servings
Skill Level: Easy
Notes:
Check short ribs every 2 hours and turn in sauce using tongs, careful not to shred the ribs as the meat begins to soften and tenderize.

The yield amount assumes other sides are included. The yield for short ribs only is 2 servings.
SHOP KEY INGREDIENTS & TOOLS: