Don't you just love one dish meals? So easy and simple to throw together with the added benefit of less dishes to worry about! Dishes like this are perfect for a busy week night when the last thing you want to do when you come home is cook. I know we all have these moments way too often!
But when they happen, it's nice to know that you can still eat a healthy meal and not feel guilty about picking up fast food for the family! This is my first sheet pan dish on the blog, so I decided to start with a simple classic recipe. I love garlic and herb butter, even more so melted over some juicy chicken, which is goes perfectly well with roasted potatoes and fresh asparagus!
If you have pre-made garlic herb butter, you can use this too, just a melt it down and add a little chicken stock to stretch the sauce, ensuring you have enough to cover all your chicken and veggies. I prefer to use fresh herbs and garlic that I've sautéed in the butter for a few minutes to really infuse those flavors. I kept my fresh herbs whole for this dish, but you can choose to chop them finely for and even more infused flavor. Many local grocery stores sell poultry herb blends that includes the staples like thyme, rosemary, parsley and sage, but if you're finding yourself having to choose between them, I'd go with thyme and rosemary first over the others.
I used asparagus and potatoes for my veggies in this dish, but as always, these can be substituted for some other favorites such as broccoli, green beans, carrots, mushrooms, brussel sprouts or onions. Just double check your cook times as some veggies, like mushrooms, take less time to cook than potatoes, for example. And speaking of cook times, this will also range depending on how thick your chicken breasts are. Boneless/skinless breast as is take about 30 minutes to fully cook, but you can cut this time to 15-20 minutes if you cut the breasts in half or pound them out thinner. Always make sure chicken is fully cooked before serving!
And there you have it, a one stop shop, minimal effort dish that's also healthy, what could be better than that?!
Disclaimer: This post contains affiliate links. We will receive compensation for any items purchased using the links below, at no cost to the buyer.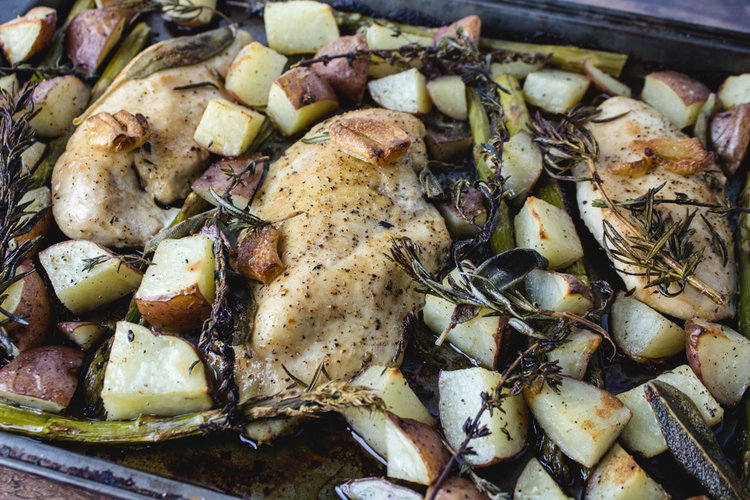 Roasted Garlic & Herb Sheet Pan Chicken
Juicy chicken breast baked in a roasted garlic & herb butter sauce with roasted red potatoes and asparagus.
Ingredients
4 boneless chicken breasts

1 bunch asparagus, ends removed

12 oz. red potatoes, washed and diced into cubes

1/2 cup unsalted butter

4 crushed garlic cloves

5-6 sprigs fresh thyme

4-5 sprigs fresh rosemary

1/4 cup fresh parsley

4-5 leaves fresh sage

1/4 cup chicken stock

salt and pepper to taste
Instructions
Heat oven to 400 degrees F.
Arrange chicken breasts, asparagus and potatoes on a 9x13 sheet pan. Season everything with salt and pepper.
Melt butter in a sauté pan and add crushed garlic. Sauté garlic for 2-3 mins then add in herbs: thyme, parsley, rosemary and sage. Cook an additional minute then add chicken stock and bring to a boil. Remove from heat and pour over chicken and vegetables.
Bake in oven for 30-35 mins.
Details
Prep time:
Cook time:
Total time:
Yield:

4-6 servings
Skill Level: Easy
Shop Key ingredients & tools: