Winter. Is. Here. Well, actually, it's springtime in Hawaii but nevertheless, WINTER IS HERE. As I sit here and contemplate what to write for this wonderful salmon dinner post, all I seem to think about is how everyone is about to DIE in Game of Thrones…. BECAUSE WINTER IS HERE!!!
While I wallow in my woes that one of my favorite TV shows of all time is ending, I also wanted to shared with you with you this epic lemony, garlicky, dijon-y salmon dinner that took like 2 seconds to make and was absolutely delicious!
You know me, I love a quick and easy meal that doesn't require much thought to put together and that I could eat night after night because of how yummy it was. This is definitely one of those meals! It's literally as easy as mixing all ingredients (except salmon) in a bowl, and brushing it over the salmon fillets, throwing it in the oven and waiting 15 minutes. Thats it! You could even try marinating the salmon in the sauce overnight for a richer flavor, but it's totally not necessary, it tastes amazing either way!
Now if you'll excuse me, I need to prepare to for great loss as the Night King flies his undead dragon into the night and burns us all alive!!
Disclaimer: This post contains affiliate links. We will receive compensation for any items purchased using the links below, at no cost to the buyer.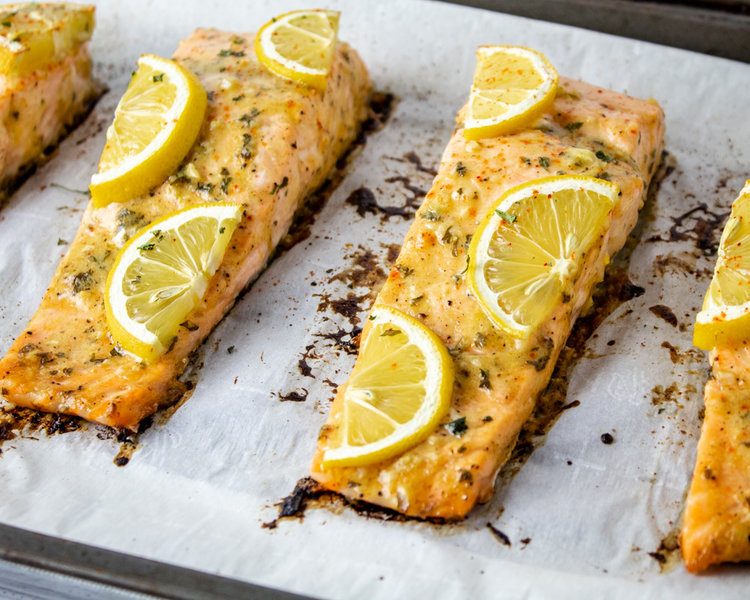 Dijon Lemon Salmon
Quick and easy dijon lemon sauce with a hint of spice brushed over flaky salmon fillets.
Ingredients
1 1/2 - 2 lbs. salmon fillet

2 tbsp olive oil

1 tbsp Dijon mustard

2 tbsp lemon juice

2 garlic cloves, minced

1/4 cup fresh parsley

1/4 tsp cayanne pepper (optional)

4-5 lemon slices (optional)

salt and pepper to taste
Instructions
Preheat oven to 400 degrees F.
In a bowl, whisk dijon mustard, lemon juice, garlic, parsley and salt & pepper. Brush over portioned salmon fillets and place on a parchment paper lined baking sheet. Sprinkle salmon with cayenne pepper and garnish with lemon slices, if desired.
Bake in oven for 15-20 minutes.
Remove from oven and serve with fresh veggies!
Details
Prep time:
Cook time:
Total time:
Yield:

4-6 servings
Skill Level: Easy
SHOP KEY INGREDIENTS & TOOLS: