Growing up, I was never known to be a sandwich lover. I'd eat the occasional cold cut sandwich for lunch if I had to, but sandwiches in general were just not my thing. That is, until I was introduced to the Original Italian Sub at Jersey Mikes. Now, full disclaimer, this is not a copy cat recipe for Jersey Mike's Italian sub, this is my altered /a bit healthier version, but we'll get to that in a sec!
On the occasions that I did have cold cut sandwiches as a kid, it was almost always a classic turkey-cheese-lettuce-tomato-mayo combo. Give me one of those during a long day at the beach or at a picnic in Central Park and I'm set! When Devin and I moved from New York to Virginia, ironically enough, we started eating quite often at Jersey Mikes since one was so close to our apartment. Typically we would share a Giant Famous Philly until one day Devin started ordering the Original Italian. Some other day, months later, I decide to give it a try and was immediately sold!
Tangy red wine vinegar, salty cured meats, bold Italian spices, smooth olive oil and soft yet crusty bread all coming together in one delicious bite seriously SOLD me on cold cut sandwiches! As amazing as that sandwich is, it's packed with not the healthiest of cured meats which is why I decided to throw a little spin on it in this post.
The Original Italian is comprised of the following deli-slices meats: ham, prosciuttini, cappacuolo, salami, and pepperoni. For a practical make-at-home sandwich I decided to omit the prosciuttini, cappacuolo and pepperoni and replace it all with turkey instead. My favorite aspects of the Original Italian are the vinegar, olive oil and Italian seasoning, so to me, this it what puts that Italian spin on this turkey sub. I kept in the salami and ham for good measure! Of course, you can choose to omit or include whichever meats you like, but for practicality purposes, I thought turkey, ham and salami made the most sense!
Let me know what are your favorite cold cut sandwiches and subs! Have you ever tried the Original Italian at Jersey Mikes? Let me know your thoughts in the comments!
Disclaimer: This post contains affiliate links. We will receive compensation for any items purchased using the links below, at no cost to the buyer.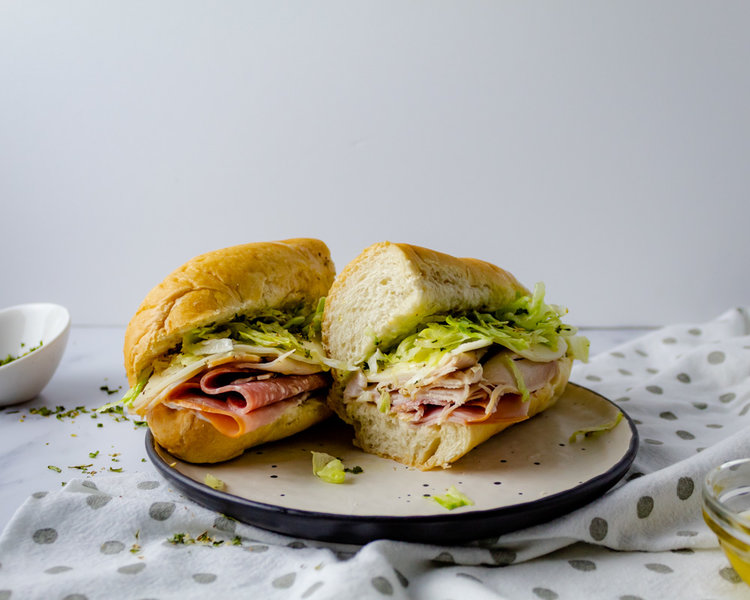 Italian Turkey Sub
Cross between a classic turkey sandwich and Italian sub with fresh Italian seasoning, tangy red wine vinegar and smooth olive oil.
Ingredients
4 deli-sliced turkey

2 deli-sliced ham

2 deli-sliced Genoa salami

2 deli-sliced provolone cheese

1/2 cup shredded lettuce

1 12 inch Italian or French Bread

2 tbsp mayonaise

2 tsp Italian seasoning

2 tbsp olive oil & red wine vinegar or Italian dressing
Instructions
Slice bread lengthwise and spread 1 tablespoon of mayonnaise on each slice.
Top one slice of bread with deli meat then provolone cheese. Add lettuce, sprinkle Italian seasoning.
Drizzle 1 tablespoon of olive oil and 1 tablespoon of vinegar (or 2 tablespoons of Italian dressing) over lettuce.
Add the top bun, slice in half and serve!
Details
Prep time:
Cook time:
Total time:
Yield:

1 12-inch sub
Skill Level: Easy
SHOP KEY INGREDIENTS & TOOLS: