I don't know about you, but I'm one that can appreciate a real good soup! One that's hearty, filling and makes me feel all warm and cozy inside, whether it be the coldest winter night or a breezy summer afternoon. I could not find a better way to describe this soup right here!
This was made on an impromptu dinner night when we were down to the last few food items in the house, before another much anticipated trip to the grocery store. Just kidding, I hate going to the grocery store! Needless to say, I got excited when Devin reminded me that we still had lentils that we bought a few weeks back that we could put to good use! I fished around for more: package of turkey kielbasa, check. Couple of celery stalks, check. Can of diced tomatoes and some stock, oh yeah, we have just what we need to pull together an amazing meal!
Normally I'd like to cook a soup like this in the slow cooker to make sure it has enough time to get all those delicious flavors flowing through, but since it was nearly 7pm as I was starting dinner, time simply did not allow. I almost scrapped the idea entirely, thinking I would not have enough time to get these lentils tender enough to eat before 10pm. A technique I learned to soften up the lentils quicker, is to soak them in boiled water for 15-20 minutes before simmering them in your soup. If you have the time though, you could let them sit in cold or room temperature water for 2 - 3 hours. Either way, it drastically reduces the cook time necessary to perfect these lentils.
To season this soup, instead of just salt and pepper, I decided to add a teaspoon of spicy Cajun seasoning just to give it a kick and of course because y'all know how much I love Cajun spice! This is completely optional, just replace the regular seasonings with Cajun and cook as normal. If spicy and Cajun are not your thing, no worries the soup is still incredibly delicious with just salt, pepper and a dash of paprika!

Now keep in mind you will need at least an hour, maybe two to simmer the lentils. Because on this night I was trying to eat dinner before 9pm, my lentils were a bit al dente and could have used an extra 20 minutes (I cooked them for just over an hour). So I suggest giving yourself ample time, or start early and slow cook this bad boy all day for a delicious, ready-made meal for dinner!
Disclaimer: This post contains affiliate links. We will receive compensation for any items purchased using the links below, at no cost to the buyer.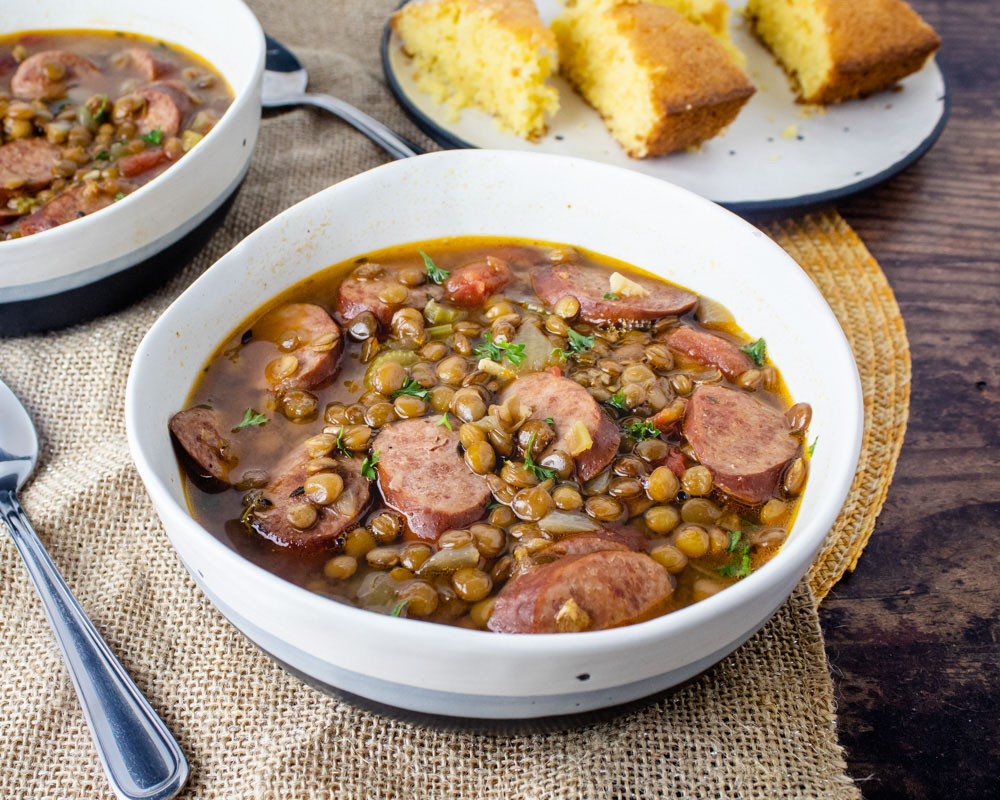 Sausage and Lentil Soup
Hearty and delicious kielbasa sausage and lentil soup with Cajun spices.
Ingredients
1 lb brown or green lentils, rinsed and soaked*

1 cup diced onion

2 garlic cloves, minced

1 tsp fresh thyme

3 celery stalks, sliced

1 14.5 oz can diced or petite diced tomatoes

2 quarts low sodium chicken or vegetable stock

1 1/2 tsp sea salt or Cajun seasoning**

1 tsp ground black pepper

1/2 tsp paprika

1 tbsp and 1 tsp olive or coconut oil

13 oz turkey kielbasa sausage, sliced
Instructions
Heat 1 tablespoon of oil in a large pot on medium heat. Add onions, garlic and thyme and cook until onions are translucent, about 5 minutes. Add in celery and paprika and continue cooking for 3-4 minutes, until celery begins to soften. Add in the stock, tomatoes and lentils, season with salt and pepper (or Cajun seasoning) and bring to a boil. Cover pot and reduce heat to low. Simmer for 1-2 hours or until lentils are tender.
While the lentils cook, heat 1 teaspoon of oil in a sauté pan on medium high. Add in sliced sausage and cook for 10 minutes, stirring occasionally, until browned. Drain from any excess oil.***
Add sausages to lentils and stir to combine all ingredients. Garnish with more fresh thyme and serve!
Details
Prep time:
Cook time:
Total time:
Yield:

6-8 servings
Skill Level: Easy
Notes:
*Tip: Soak lentils in cold water for two hours or boiling water for 15 mins prior to cooking.

**Optional: Replace salt, pepper and paprika with 1 - 1 1/2 teaspoons of Cajun seasoning for an extra kick!

***Optional: You could add the sausage to simmering lentils during the last 15 minutes of cook time instead of sautéing them first, if you prefer.
SHOP KEY INGREDIENTS & TOOLS: